Millefili is a natural protagonist and even this year, to celebrate its inevitable presence at Pitti Filati75, arranged a gorgeous party at Palazzo Corsini in Firenze. All the clients, customers, friends and partners have received an invitation for July 3rd to this beautiful location on the Lungo Arno as if catapulted on a movie set.
One of the most fascinating and striking scenery in the heart of the city. It's in these occasion that you can really understand the motto of Millefili: a company that doesn't only produce yarns, but dreams about them and lives them with their customers. So be it with music, dancing, good food, good company and a lot of fun but always with an eye for taste and the new ins and the highlights Millefili showed off at Pitti Filati.
New ins and highlights that see the important contribution of Angela Cappi as always, who keeps on popping out interesting yarn collections. the secret is always the right combination between tradition and creativity and constant innovation, in order to satisfy the taste of any kind of customer. The one inclined towards "safe" stuff, darker tones, grey or denim style, and the one that goes for the new risky stuff, for the experimentation, for colorful patterns, for space voyages with new technologies, new materials, new compositions.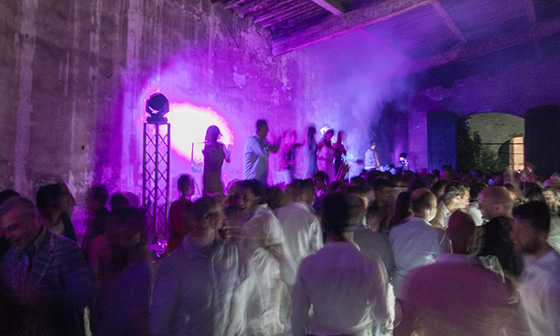 So here's the fur, the colors, the turtleneck, the alpaca, wool and cotton, see-through fabric, glitters, plastic look-a-likes. Fluffyness and light that goes with fur and winter. All together but clashing at the same time. A bit like all the guests at this party by Millefili. Lots of faces, lots of personalities joined by the same brand.
Images: © Cristiano Casolari MODO Fotografia